12 exclusive residences
Pieterskerkhof, Utrecht
Authentic living in the heart of Utrecht
Authentiek wonen in het hart van Utrecht
In the lee of the lively city centre, a historic school building has been transformed into 12 high-end rental residences. Here, the best of worlds comes together. Modern living in a monumental building. High-quality finishing with authentic details. Quiet and bustling at the same time.
Lyceum is hidden behind century-old city facades, in a quiet courtyard. From the graceful staircase to the high ceilings; Lyceum is an experience that you only experience when you step inside.
Currently, all properties are successfully rented out. Are you interested? Please feel free to contact us. We will inform you when a property becomes available.
"Lyceum is an experience you only really
experience when you step inside."
De middagzon valt langs de Domtoren door de hoge ramen naar binnen. De houten vloeren kleuren langzaam goud. Dit is thuiskomen. Alles in uw woning is tot in de puntjes afgewerkt. Toch voelt u de rijke historie die dit oude schoolgebouw ademt. Van het authentieke trappenhuis tot de hoge plafonds en de originele architectuur. De karakteristieke elementen verklappen dat dit gebouw door de tijd heen heeft geleefd en nu een nieuwe bestemming heeft.
Waar ooit de schoolbanken stonden, staat nu uw stoffen sofa. Daar waar het schoolbord hing, schitteren de penseelstreken van uw favoriete kunstenaar. Op de afgeschermde, groene buitenplaats drinkt u koffie in de zon; vroeger was het er speelkwartier.
As the afternoon sunlight falls through the tall windows, the wooden floors slowly turn golden. This is home, where everything is finished to perfection. The rich history of this old school building is almost tangible. You can feel it in the authentic stairwells, the high ceilings and original architecture. The characteristic elements reveal that this building has lived through time and now fulfils a new purpose.
The school desk made place for your comfortable sofa. Where the blackboard once hung, a painting by your favourite artist shines on the wall. In the secluded, green courtyard, you drink coffee in the sun. Years ago, it used to be playtime there.
Everything within easy reach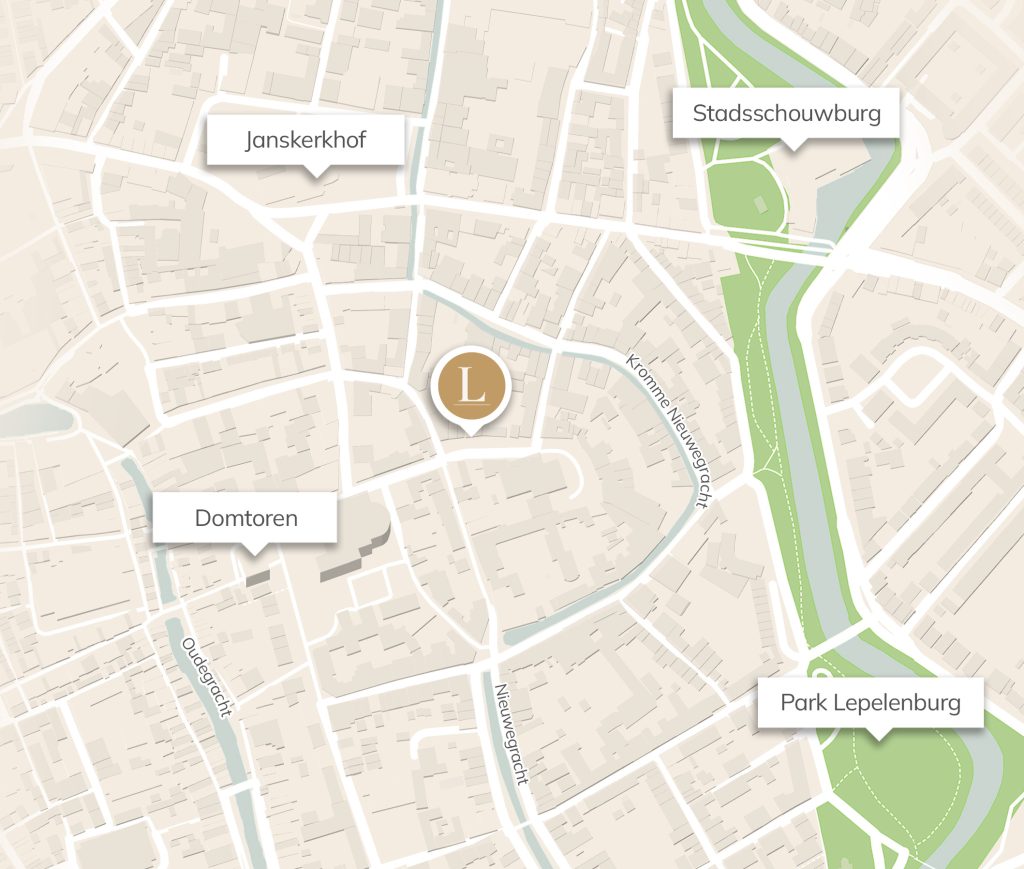 Imagine living in the vibrant heart of Utrecht, at the foot of the Dom. From colourful shops to lively restaurants and famous sights; everything is within walking distance. Want to go out of town? Utrecht Central Station is just a kilometre away. 
Want to get some fresh air? Grab a bike from your own storage space and cycle through beautiful nature at Landgoed Amelisweerd within 15 minutes. There are also several parking spaces available in the private courtyard near your home.
Currently, all of our properties are successfully rented out. Are you interested? Then let us know by sending an e-mail to huren@bridgesre.nl, including the following information:
Your name;
Your contact information;
Rental budget; and
Your preferred property type (studio, apartment or maisonette).
We will contact you when a property becomes available.
Don't worry, your data is in good hands. Our privacy statement explains what we do to ensure the security of your personal information.
Disclaimer
This promotion is not an offer. It is a registration request to interested parties to be kept informed about the advertised residences. No offer of the advertised units can be made by the owner, Bridges Real Estate, and no deposits can be accepted, or reservations, binding or non-binding, made. Drawings and renders of the building are artistic expressions and reflect the planned scale and spirit of the building. Such images are for illustrative purposes only.
www.bridgesre.nl